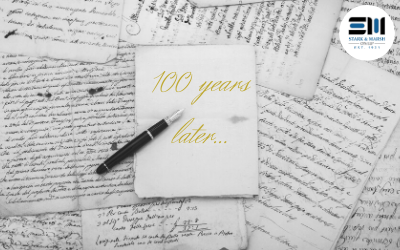 In 1921, when Maurice Hesford started an accounting practice in the still young city of Swift Current, it is highly unlikely that he could have envisioned that 100 years later his professional services legacy would carry on.
Like most young entrepreneurs, in the initial years, he was likely thinking more about making enough money to support his family, pay his bills, and buy the necessities of life. However, the reality is that his practice started what has become 100 years of professional accounting & advisory services to clientele throughout southern Saskatchewan.
The direct descendants of Maurice Hesford's practice ultimately became Stark & Co. in the 1980's. The 1980's version of the firm, with an office on 1st Avenue Northeast in Swift Current, was named after Gord Stark who had entered the practice in 1947 and remained a Partner in the firm until 1989.
The Marsh side of Stark & Marsh, which served locations in Swift Current and Shaunavon, originated with Bob Marsh who joined the Stark group in the late 60's, branched out on his own for 20+ years, and then ultimately merged back with the Stark group in 1993 to become the present-day Stark & Marsh.
As we begin our 100th year of operations, and 28 years after the Stark & Marsh merger, it is noteworthy that all of the original Partners; Bob Marsh, Keith Hagen, Lyle Blenner-Hassett, Garth Knakoske, Ron Siemens, Glen Rittinger, Ben Wiebe, Glen Budd and Greg Smith; have now retired as Partners turning the leadership of the firm over to a completely new set of Partners to carry on their legacy…along with the legacy of Maurice Hesford, Gord Stark and the many other Partners that led the firm through this 100 year period. That is one of the amazing stories in the firm's journey that, while the names and faces of leadership change, the professional practice of serving our clients and communities has carried on.
Today, the firm remains in the communities of Swift Current and Shaunavon, while also adding a 3rd full-time office in Assiniboia in 2016. We also have colleagues working out of offices in Cabri and Val Marie, along with day offices in Maple Creek, Leader, and Kyle providing us with a significant presence in the southwest and southcentral regions of the province.
While firm leadership is often at centre stage when discussing our past and present, ultimately, it is the people of Stark & Marsh that have made this happen. When Stark & Marsh merged in 1993, the firm consisted of approximately 35 people. 28 years later, we have grown to 85 people. It is amazing to consider the number of individuals that have been part of this 100-year journey. All of these individuals deserve credit for allowing us to transform and change, to grow, and to continue to serve our clientele year after year, decade after decade. To all of those that have been part of the Stark & Marsh community, thank you for your role in our past and, for those with us today, in our future.
If we think the number of individuals that have worked at Stark & Marsh is a large number, to think of the number of people and businesses that the firm has served over the past 100 years would be incredible. It makes us proud to think of the number of clients who have started their businesses, grown their businesses, transitioned their businesses, and been able to enjoy the fruits of their labour over the past 100 years. We hope that our service helped you along the way. For those that are using our professional services or have used our services over the past 100 years, thank you. We, literally and figurately, could not have done it without you.
Over the past 100 years, we have remained quite true to the southwest and more recently the southcentral portion of the province. We are proud of that. From Consul to Central Butte or Leader to Bengough, we have a stake in these areas because of the individuals we serve. These same communities are also home to the people of Stark & Marsh. We are proud of this area of our province and our country and look forward to continued work to help the communities of our region stay strong.
To capture this monumental milestone, as an organization we plan on getting creative with our activities & contributions to the communities we serve. As we enter 2021 with many unknowns our internal planning committee is organizing a variety of virtual ways to celebrate this milestone. We encourage everyone to follow our social media platforms for more information.
Providing accounting and advisory services in 1921 would have looked quite different when considering the processes and technology of today. However, the fundamentals are the same. We are here to help our clients. Over the next 100 years, our mission will be to continue to provide services of value to our clientele. Those services may look different down the road but the fundamental concept of helping our clients will remain the same. That is the foundation of professional services. We look forward to the challenge of ensuring that we are providing each of you with what you need to be successful in the start-up, growth, and ultimate transition of your business operation.
We also look forward to the opportunity to continue to help individuals start, grow, and finish their careers in the professional accounting and advisory industry. We know that our role is to provide opportunities. We have been doing that for 100 years and relish the chance to do that for many more to come. We look forward to the growth and development of our colleagues and the next generation of leaders who will take their place as partners in Stark & Marsh.
With sincere thanks,
Elden Moberg
Chief Executive Officer
Learn More
Interested in learning more about our 100 Year Anniversary? Visit our history page below.