Stark & Marsh has roots dating back to 1921.
Learn more about our past partners and monumental moments for our organization!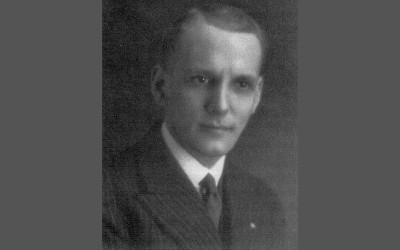 1921
Photo: Maurice Hesford
Maurice Hesford began a private practice in Swift Current and operated through the '20's.  Over time, he was joined by Sidney Wik and Maurice Jeffery creating Hesford, Wik & Jeffery.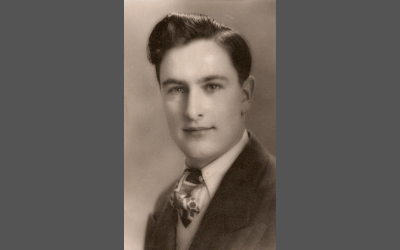 1947
Photo: Gordon Stark
Gordon Stark moved to Swift Current searching for a job, and shortly after found a home at Hesford, Wik & Jeffery.  Mr. Stark, the Stark in the current Stark & Marsh, bought out Mr. Hesford in 1949 and the firm became Wik, Jeffery & Stark.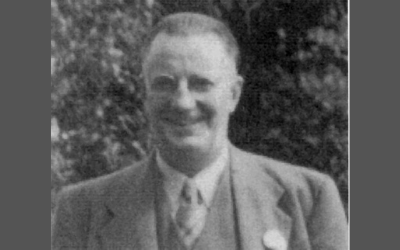 1950's
Photo: Maurice Jeffery
Later, Stan Mabbs and Hank Millard joined the firm expanding the name to Wik, Jeffery, Stark, Mabbs, & Millard.  During this period, they had offices on Central Avenue above Laycock's Drug Store, above a doctor's office, and above Standard Motors as they continued to expand.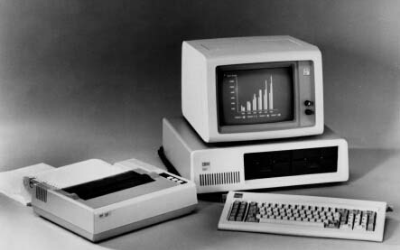 1961
The first stand-alone computer was purchased and the computer age of the firm began. This was ground breaking, and is one of the most significant components of Gordon Stark's legacy.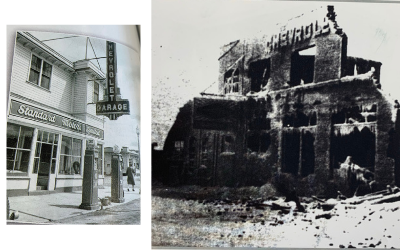 1964
Disaster struck while the firm was based on the upper floor of Standard Motors.  A gasoline tank exploded in the service area and ignited the worst fire in Swift Current's history.  The fire, which completely engulfed the service area of Standard Motors and all of the shared offices above, continued for 4 days until it was completely extinguished.  There was over one million dollars of damage and three people, including a fireman, were severely injured.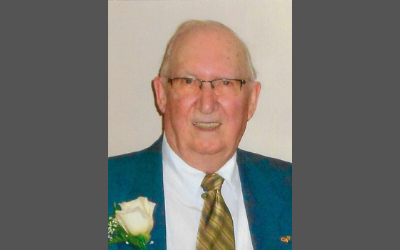 1966
Photo: Lyle Blenner-Hassett
Hank Millard retired and Lyle Blenner-Hassett joined the partnership. Shortly, thereafter, Bob Marsh, the Marsh of Stark & Marsh, came on board.  He remained in the partnership until 1974 when he left and branched out to establish his own legacy in the City.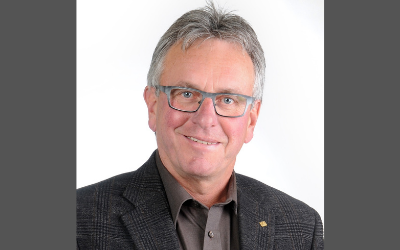 1974
Photo: Glen Rittinger
The next generation of partners began their careers: Gordon Kushner 1974-1983; Glen Rittinger 1977-2012; Ben Wiebe 1982-2017; Garry Trembath 1985-1988; Greg Smith 1985-2020; and Garth Knakoske 1986-2010.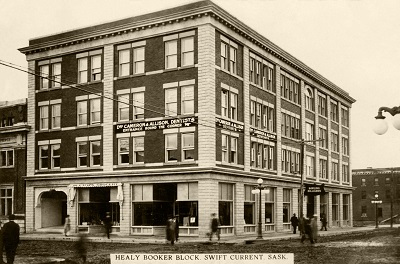 1970's
Photo: Professional Building Swift Current; one of two office locations in the 70's-80's
Bob Marsh's firm was developing. His private practice began in an office on the second floor of the professional building in Swift Current and also included a satellite office in James Benison's office (lawyer) in the town of Shaunavon.  In 1977, Denis Ginet joined the firm for a three year stint in the partnership; Ron Siemens joined in 1979-2011; Glen Budd came on board in 1982-2019; and Keith Hagen was the last addition in 1987-2001. Marsh, Siemens, Budd & Hagen were formed serving Swift Current at their location on 191-2nd Avenue Northeast and in Shaunavon at their location on 340 Centre Street.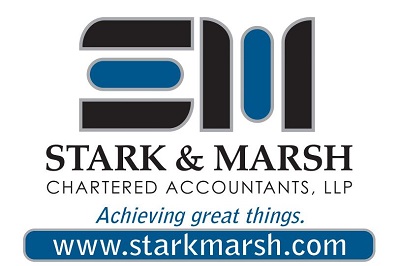 1993
The partners at Stark & Co. (Lyle Blenner-Hassett, Glen Rittinger, Ben Wiebe, Garth Knakoske, and Greg Smith) and the partners at Marsh, Siemens, Budd & Hagen (Bob Marsh, Ron Siemens, Glen Budd, and Keith Hagen) decided that one united entity would better serve their clients' needs and Stark & Marsh Chartered Accountants was born paying homage to two of the noteworthy leaders of the respective firms in the new name.  They established their office at 145 1st Avenue Northeast, while also maintaining the Centre Street location in Shaunavon.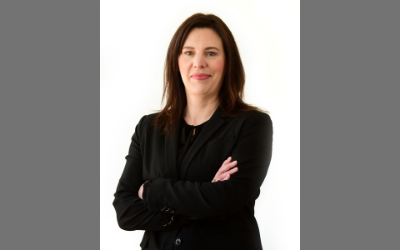 2006
Photo: Leslie Neufeld
In 2006 Stark & Marsh welcomed it's first female partner to the group, Leslie Neufeld. Terri Olfert joined the partnership in 2009; and Nadine Dyck in 2015.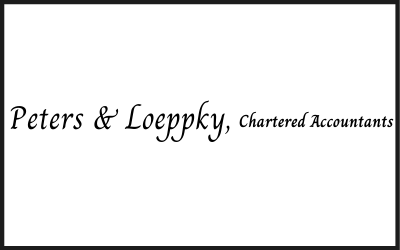 2008
Peters & Loeppky merges with Stark & Marsh Chartered Accountants. This merger included three individuals whom are all still with our firm today, Vern Peters, Todd Loeppky, and Conrad Funk. Today, Vern is our Tax Advisory Partner, Todd is also in the Partnership managing a book of clients, and Conrad is a member of our Senior Management team.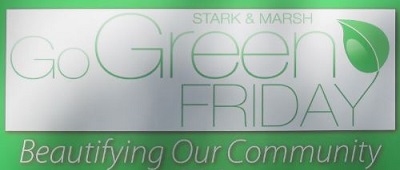 2009
Photo: Original Go Green Friday Logo
GoGreen began in 2009, after consultations with the City of Swift Current revealed a need for a fall clean up in and around the city. As a corporate citizen, we are committed to our environment and proudly organize this event each year. GoGreen draws over 100 community participants annually, including Stark & Marsh employees and clients. GoGreen Swift Current has contributed to the planting of over 2,200 trees and shrubs throughout Swift Current alone!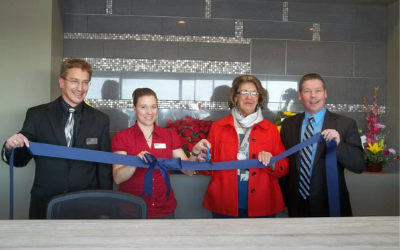 2012
Photo: Todd Loeppky, Nicole Entem, former Shaunavon Mayor Sharon Dickie, & Elden Moberg
The Shaunavon office relocated from 340 Centre Street to it's current location 1-910 3rd Avenue West in the Bennett Plaza. The move in office locations created an opportunity for growth adding additional office spaces.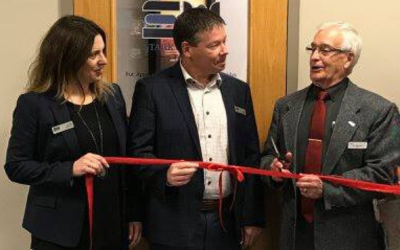 2016
Photo: Leslie Neufeld, Elden Moberg, & former Assiniboia Mayor Bob Himbeault.
The firm acquired an existing accounting practice in Assiniboia and established a permanent location in the Prince of Wales Cultural Centre to accommodate growth in south central Saskatchewan.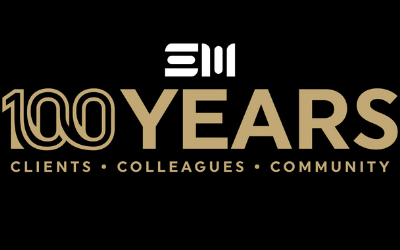 2021
Photo: 100th Year Logo 
As we celebrate our 100th year, Stark & Marsh would like to recognize our current Partner Group; Brian Tuntland, Chelsey Stock, Elden Moberg, Leslie Neufeld, Nadine Dyck, Shane Lacasse, Terri Olfert, Todd Loeppky, and Vern Peters. View biographies for Stark & Marsh Partners, Management, & Operations team on Our Colleagues page. 
Number of Partners in the history of our firm
Number of Years Serving Southwest Saskatchewan
In 1921, when Maurice Hesford started an accounting practice in the still young city of Swift Current, it is highly unlikely that he could have envisioned that 100 years later his professional services legacy would carry on.
Like most young entrepreneurs, in the initial years, he was likely thinking more about making enough money to support his family, pay his bills, and buy the necessities of life. However, the reality is that his practice started what has become 100 years of professional accounting & advisory services to clientele throughout southern Saskatchewan.
The direct descendants of Maurice Hesford's practice ultimately became Stark & Co. in the 1980's. The 1980's version of the firm, with an office on 1st Avenue Northeast in Swift Current, was named after Gord Stark who had entered the practice in 1947 and remained a Partner in the firm until 1989.
The Marsh side of Stark & Marsh, which served locations in Swift Current and Shaunavon, originated with Bob Marsh who joined the Stark group in the late 60's, branched out on his own for 20+ years, and then ultimately merged back with the Stark group in 1993 to become the present-day Stark & Marsh.
As we begin our 100th year of operations, and 28 years after the Stark & Marsh merger, it is noteworthy that all of the original Partners; Bob Marsh, Keith Hagen, Lyle Blenner-Hassett, Garth Knakoske, Ron Siemens, Glen Rittinger, Ben Wiebe, Glen Budd and Greg Smith; have now retired as Partners turning the leadership of the firm over to a completely new set of Partners to carry on their legacy…along with the legacy of Maurice Hesford, Gord Stark and the many other Partners that led the firm through this 100 year period. That is one of the amazing stories in the firm's journey that, while the names and faces of leadership change, the professional practice of serving our clients and communities has carried on.
100 Year Celebrations
We concluded our Social Media giveaway contest in May 2021, stay tuned for future events!
Visit our Facebook page for a list of contest winners, businesses, and charities supported in our giveaway contest. 
Below is our 10 Year Go Green Anniversary Documentary which captures the evolution of our annual event, highlights projects, and thanks our community partners.